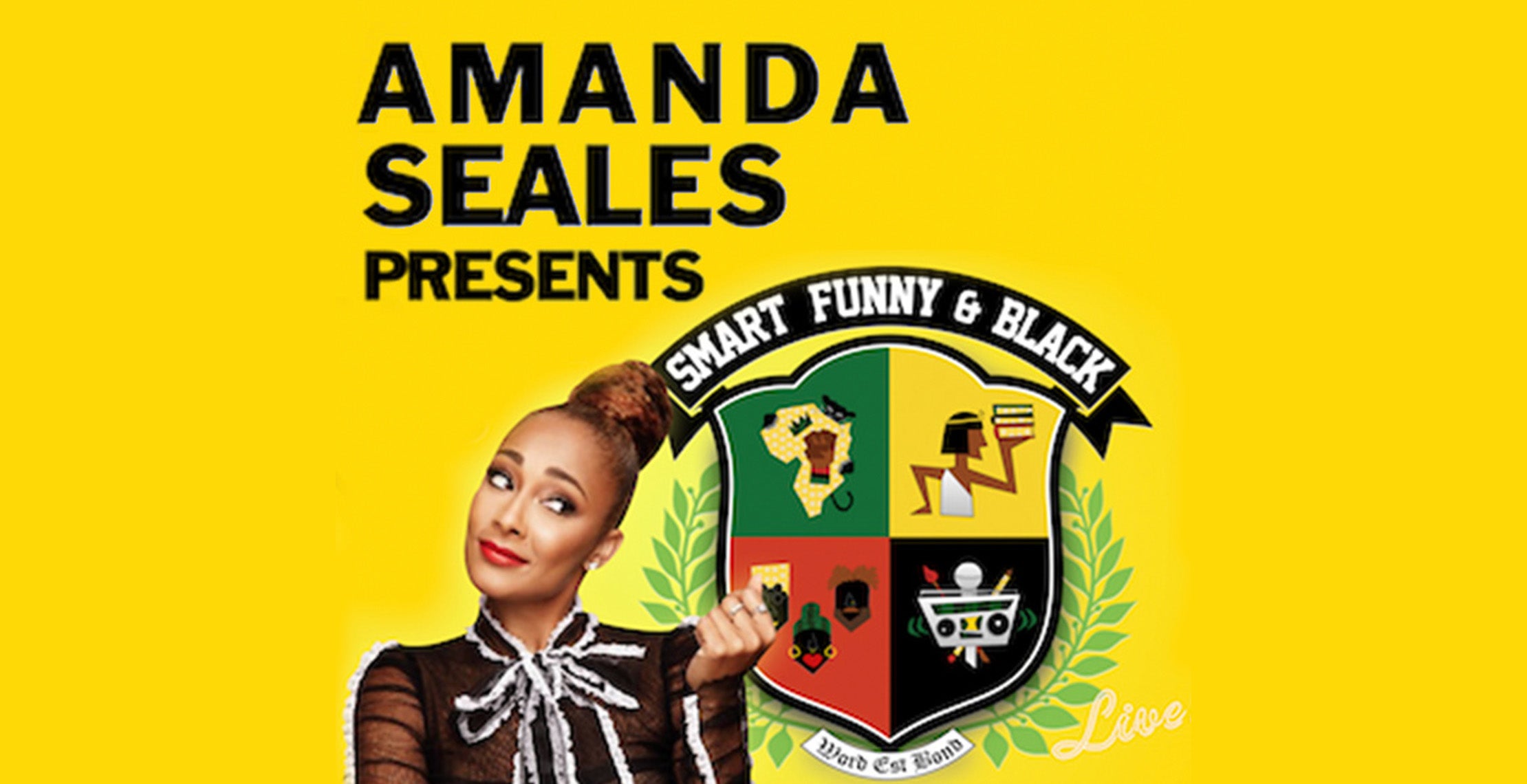 Smart, Funny & Black: Amanda Seales
Smart, Funny & Black: Amanda Seales
Buy Tickets
oct.
15
/

sábado
7:30p. m.
Event Info
Created by comedian/writer/producer, Amanda Seales (HBO Insecure/The Real/author of Small Doses) Smart Funny & Black, brings your favorite funny folks to the, "Hall of Flava"* to compete, in a head-to-head battle of wits that tests their knowledge of Black history, Black culture, and the Black experience. After a night of fun as hell games, flanked by a live band, and a turnt up audience, each show ends with one guest, taking the crown, and being inducted into the, "Illustrious League of Master Blacksperts"! SFB in Da Crib strengthens unity by providing a safe space to be your whole Black self and link with the people through the shared culture that binds US!
Health and Safety Protocols
As Health and Safety guidelines and venue protocols surrounding COVID-19 continue to develop, we request you check this page often for mandated event requirements. In alignment with the CDC's new relaxed guidelines, the Fox Theatre is no longer requiring that guests wear masks. For the most up-to-date information regarding the Fox Theatre's Health and Safety protocols and upgrades visit foxtheatre.org/HealthandSafety.
*Government mandates, venue protocols, and event requirements are subject to change. All ticket holders will be emailed a KNOW BEFORE YOU GO notification at least 24 hours prior to their scheduled event with show-specific arrival protocols.
This is a 100% CASHLESS event to help mitigate hand-to-hand contact. Please be prepared to pay by card ONLY. All major credit cards will be accepted with tap-to-touch payment. Guests with cash will have the opportunity to exchange cash for a pre-paid card for use at all concessions points of sale.
Ticket Office Hours
Friday 10a-5p
Saturday 10a-3p
Ticket Office will open approximately 3 hours before doors on show days.
Comedian, actress, writer, producer, and more, Amanda Seales doesn't just make you laugh, she makes change!
With an uncanny knack for taking serious topics (racism, rape culture, sexism, police brutality, etc.) and with humor, making them relatable and interesting, she combines intellectual wit, silliness, and a pop culture obsession to create her unique style of smart funny content for the stage and screens.
Amanda Seales is a comedian and creative visionary with a Master's in African American studies from Columbia University. Seamlessly blending humor and intellect her unique style of smart funny content spans various genres across the entertainment and multi-media landscape. She is best known for her iconic role as, "Tiffany DuBois" of HBO's Insecure, her debut stand up comedy special, "I Be Knowin", as a former cohost on daytime talk show, "The Real", host of NBCs "Bring the Funny," and the host/writer of the groundbreaking 2020 BET Awards. She speaks truth to change via her wildly popular instagram @AmandaSeales, weekly podcast, "Small Doses", and book by the same name. Centering community building in her comedy, she is also the creator/host of the touring variety game show, "Smart Funny & Black" and of "Smart Funny & Black Radio" on Kevin Hart's LOL Network on SiriusXM. Always an advocate for Black voices, she founded Smart Funny & Black Productions to produce and create art as edu-tainment across the media landscape by any joke necessary.
A Jedi Khaleesi with a patronus that's a Black Panther with wings, Amanda Seales continues to keep audiences laughing, thinking, and living in their truth!
Smart, Funny & Black: Amanda Seales Hype Video