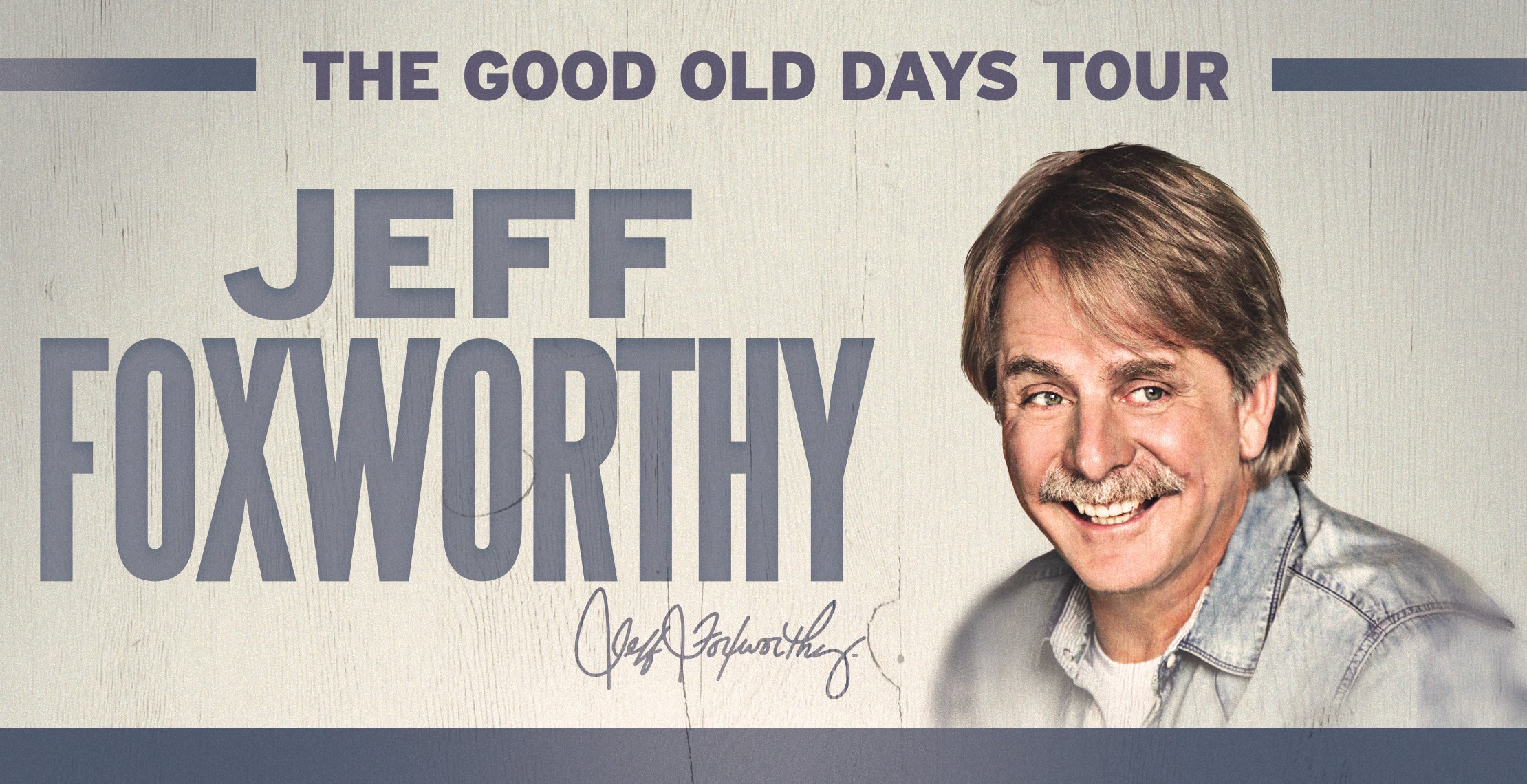 Jeff Foxworthy
The Good Old Days Tour
Jeff Foxworthy
The Good Old Days Tour
Buy Tickets
oct.
16
/

sábado
8:00p. m.
Additional Ticket Options
Event Info
**The Jeff Foxworthy Fox Theatre performance will be recorded and will start promptly at the advertised time. Late arrival will potentially result in seat relocation due to taping.**
Comedy Icon Jeff Foxworthy is going to take us back to The Good Old Days! This unforgettable night of comedy will deliver a laughter-packed evening that features all-new material.
oct.

16

/

sábado

8:00p. m.

TICKET PRICE
SERVICE CHARGE
FACILITY FEE
TOTAL PER TICKET
Adult
55,50 €
16,25 €
4,00 €
75,75 €
Adult
55,50 €
16,25 €
4,00 €
75,75 €
Adult
55,50 €
16,25 €
4,00 €
75,75 €
Adult
45,50 €
14,50 €
4,00 €
64,00 €
Adult
15,95 €
6,50 €
4,00 €
26,45 €
Adult
15,95 €
6,50 €
4,00 €
26,45 €
Adult - Marquee Club
55,50 €
56,00 €
4,00 €
115,50 €
oct.

16

/

sábado

8:00p. m.

TICKET PRICE
SERVICE CHARGE
FACILITY FEE
TOTAL PER TICKET
Platinum Seating
185,00 €
30,75 €
4,00 €
219,75 €
Platinum Seating
170,00 €
30,75 €
4,00 €
204,75 €
Platinum Seating
150,00 €
30,75 €
4,00 €
184,75 €
Platinum Seating
140,00 €
16,25 €
4,00 €
160,25 €
Platinum Seating
125,00 €
25,25 €
4,00 €
154,25 €
Platinum Seating
90,00 €
20,25 €
4,00 €
114,25 €