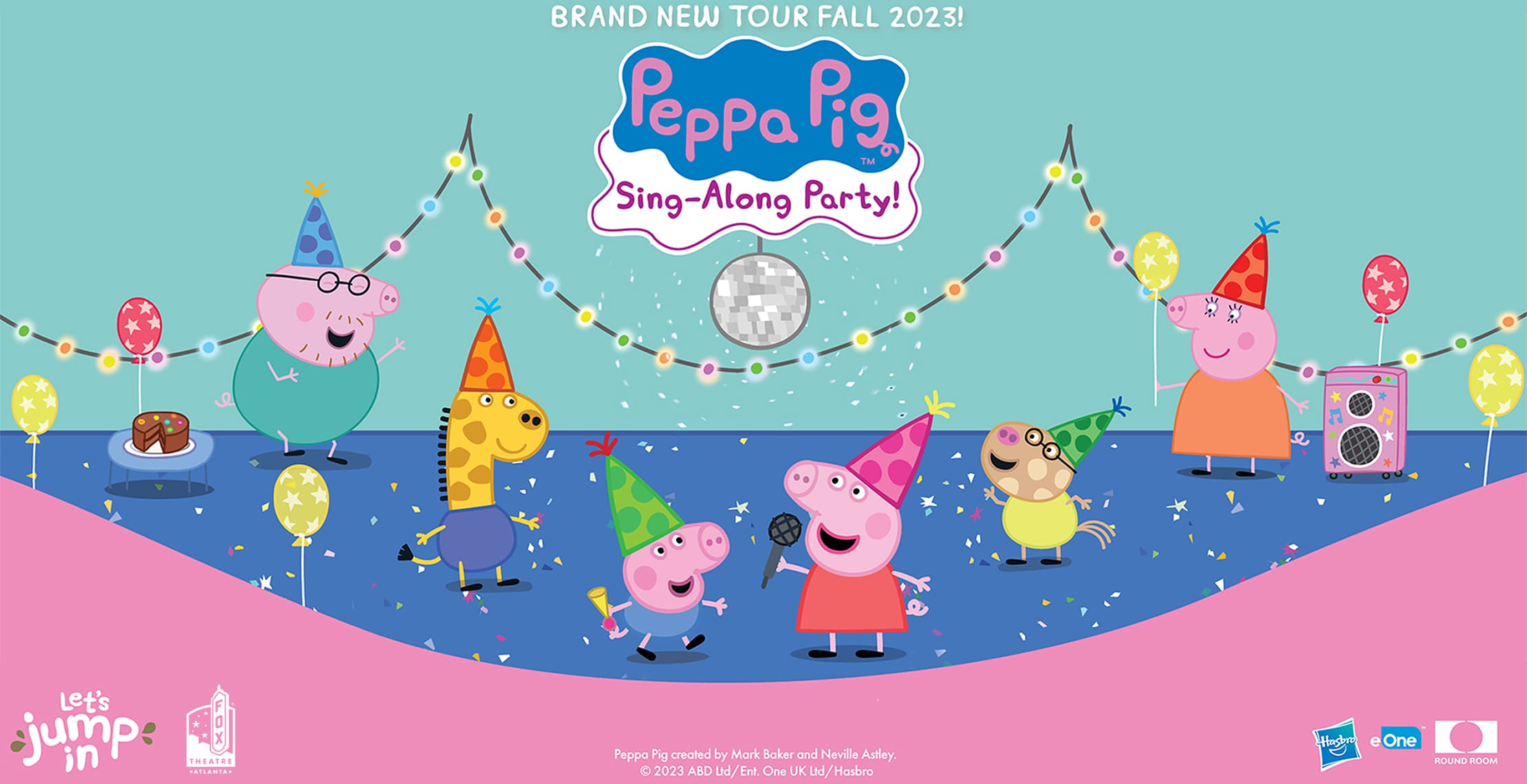 Peppa Pig Sing-Along Party!
Peppa Pig Sing-Along Party!
Buy Tickets
Additional Ticket Options
Event Info
Peppa Pig's Sing-Along Party! will be bringing back the loveable, cheeky little piggy in a brand-new interactive production filled with dancing, singing and puddle jumping. Peppa, George, Mummy Pig, and Daddy Pig will be singing along to some of their favorite songs, and they invite children and families alike to join in the fun. Dance, clap, and sing with Peppa and her family along with Pedro Pony, Suzy Sheep, and Gerald Giraffe. Blow up those balloons and get the disco ball ready as you and your family party along with Peppa in this 60-minute interactive sing-along adventure!
ALL event attendees (adults and children of all ages) must have a show ticket. No one, including children of all ages, will be admitted without a ticket.
LAP SEAT RULES:
Lap Seats are only available for children 1 year old and younger.
Lap Seats are only available for purchase in-person at the Box Office Window.
Lap Seats are sold from the seating inventory of each show.

Guests may purchase a seat from the least expensive price point available at the time of purchase.
This ticket is not available to be discounted, and the price of the least expensive price point may vary based on current availability.
What is Peppa Pig Sing-Along Party! - Photo Experience ADD-ON?
Make the most of your experience with the Peppa Pig Sing-Along Party! Photo Experience Add-On*. This one-of-a-kind Photo Experience allows you and your family to experience a unique photo opportunity by jumping in a mud puddle alongside Peppa Pig & Friends.
HOW IT WORKS:
Photo Experience Add-On* ticket purchasers should go to the Will Call window at the Box Office on the show day to pick up their passes.
Each adult and child (age two and up) in a group MUST have a show ticket as well as a Photo Experience ticket to attend.
Children age 12 and under MUST be accompanied by a Parent/Guardian.
The Photo Experience will start shortly after the end of show.
Please make sure to bring your camera, as you will want to capture every moment!
TIPS FROM THE TOUR:
Parents, please note that while most children are excited to meet their favorite characters up-close, others can feel frightened. If your child is scared or hesitant to meet our characters, we recommend moving to the back of the line. This will allow your child the extra time they may need to warm up to the characters and see how they interact with other children present.
For the safety of all guests and performers, no touching or hugging will be permitted.
*Add-Ons are NOT a VIP offering. This a separate upgrade that must be purchased in advance of the main event. Photo Experience Add-On tickets will be available for purchase at time of show ticket purchase or separately until the performance begins (while inventory is available). Admission to the performance is NOT included in the Photo Experience Add-On ticket.
Marquee Club Access (Loge Seats)
Access to the Marquee Club presented by Lexus is available for this show with purchase of all-inclusive Marquee Club Seats located in the front balcony section (the Loge) of the theatre. When purchasing tickets, look for seats titled Marquee Club Seats or if selecting seats from our seat map look for LOGE seats in our front balcony section.
Access to the Marquee Club includes:
Exclusive, early entry 90 minutes before showtime
Complimentary pre-show food from a seasonal menu
Complimentary water and soda
Premium beverages for purchase exclusively at the Marquee Club
Private restrooms accessible throughout your event
In-Person Ticket Office Window Support
Friday 10 AM - 5 PM
Saturday 10 AM - 3 PM
Ticket Office will open three (3) hours before doors on show days.
Ticket Office Call Center
Monday through Friday - 10 AM - 6 PM
Saturday - 10 AM - 3 PM
To contact a call center representative please email boxoffice@foxtheatre.org or dial 855-285-8499.
This is a 100% CASHLESS event to help mitigate hand-to-hand contact. Please be prepared to pay by card ONLY. All major credit cards will be accepted with tap-to-touch payment. Guests with cash will have the opportunity to exchange cash for a pre-paid card for use at all concessions points of sale.
The following items are prohibited on Fox Theatre property
Weapons of any kind, including but not limited to:
Firearms (with or without permit)
Pocketknives, multi-tools, or knives of any size
Pepper Spray or Mace
Flares or Fireworks
Oversized bags (Bag larger than 8.5" x 11", including all backpacks, briefcases, luggage, or duffle bags)
Illegal Substances
Outside Food and Beverage
Laser Pointers/ flashlights greater than 3"
Professional or flash photography, tripods, monopods, selfie-sticks
Audio or Video recording devices
Signs larger than 11" x 17" or any sign attached to a stick or pole
Skateboards, hoverboards, rollerblades, scooters, or bicycles
Balloons, permanent markers, spray paint, silly string
Noisemaking devices (e.g. air horns, drums, whistles)
Large or pointed umbrellas
**The Fox Theatre reserves the right to prohibit any item, including items not listed above, from entering the premises based on any show request or requirement.**