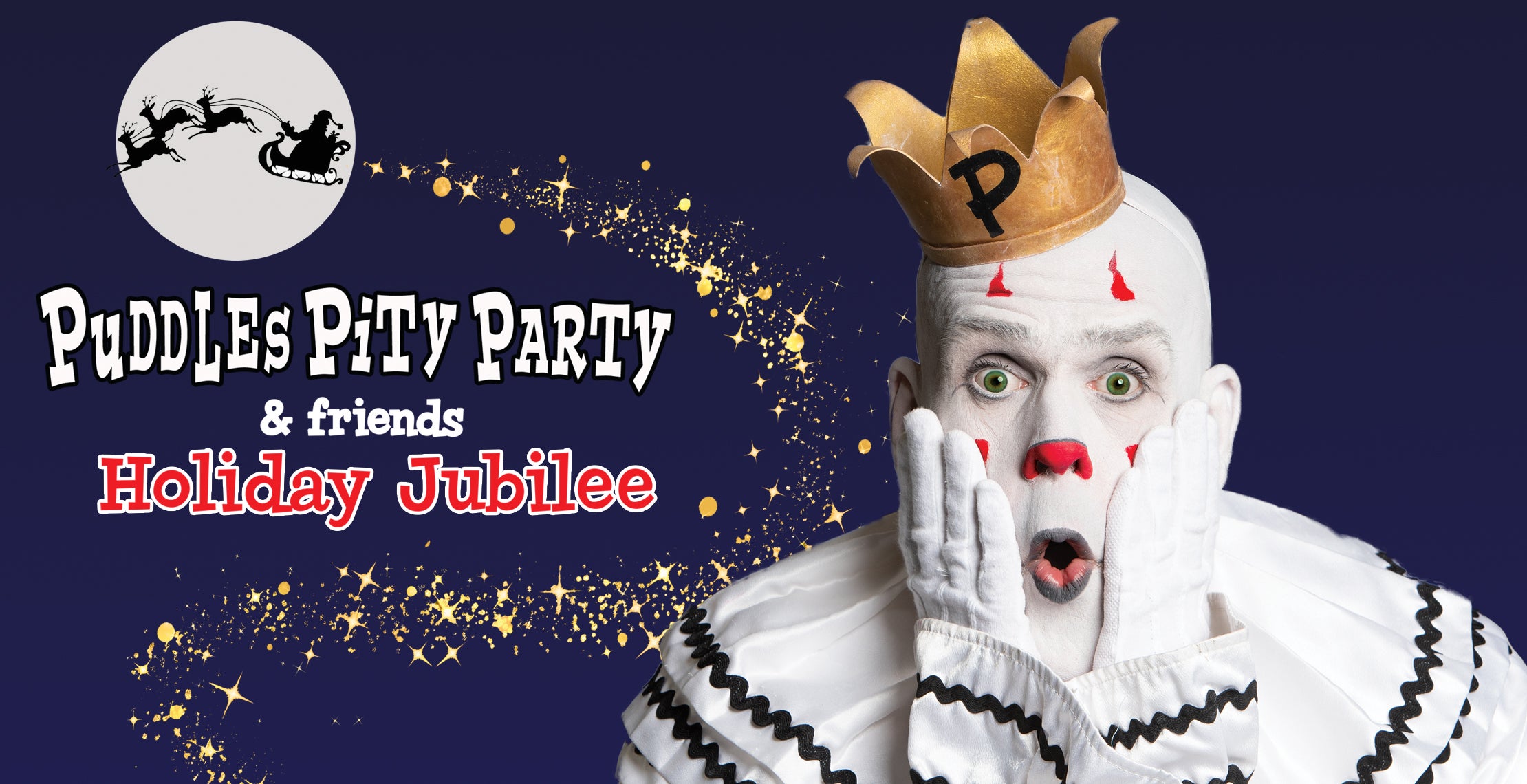 Puddles Pity Party & Friends Holiday Jubilee
Puddles Pity Party & Friends Holiday Jubilee
Event Info
You're invited to Puddles Pity Party & Friends 2nd Annual Holiday Jubilee! Puddles takes a break from touring and returns home for a special evening of festive song and joyous camaraderie at the Fox Theatre. The sad clown with the golden voice is joined by a parade of talented Pity Pals to get him in the holiday spirit. Friends making special appearances include Lucky Yates, Santa, Mighty Mo the Pipe Organ played by Atlanta Braves Organist Matthew Kaminski, Krampus, Mezzo Soprano Heather Witt-Owens, The Krewe of Grateful Gluttons, and lots of surprises. Kick off the holiday season with laugh out loud holiday cheer and some sentimental tears as Puddles sings all your favorite holiday classics. Fun for the whole family!
More about Puddles Pity Party
A veritable "Pagliacci by way of Pee-Wee Herman and David Lynch" (The AJC), Puddles Pity Party has 549K YouTube subscribers and over 200 million views for his poignant and powerful interpretations of pop hits. You may recognize him from his appearances on Season 12 of America's Got Talent and viral video collaborations with Postmodern Jukebox. Puddles is wowing audiences at his on-going residency at Caesars Palace, and he tours extensively in the US at legendary venues like the Palace of Fine Arts in San Francisco, the Kennedy Center in D.C., The Vic in Chicago and the Troubadour in Los Angeles. He has also performed many times in the UK at Soho Theatre London and the Edinburgh Fringe Festival. Other worldwide festival appearances include the Adelaide Fringe Festival, Perth Fringe World, Melbourne International Comedy Fest, Just for Laughs Montreal, Belgium's Gent Festival, Festival Supreme (LA), Bumbershoot Festival (Seattle), Moontower Comedy Festival (Austin), and Outside Lands Festival (San Francisco).
"It seems like a parody. But when Puddles opens his mouth to sing, it's beautiful. Operatic." - The Boston Globe
"His special effect is a textured voice laced with melancholy…what makes him transcend the trope is his vulnerability." - The New York Times
"Fantastically brilliant…originality at its best." - Simon Cowell
"What a voice he has. Brilliant man. Love him." - Eric Idle
"Puddles Pity Party is the damndest thing…If I could sing like that, I'd never shut up." - Michael McKean