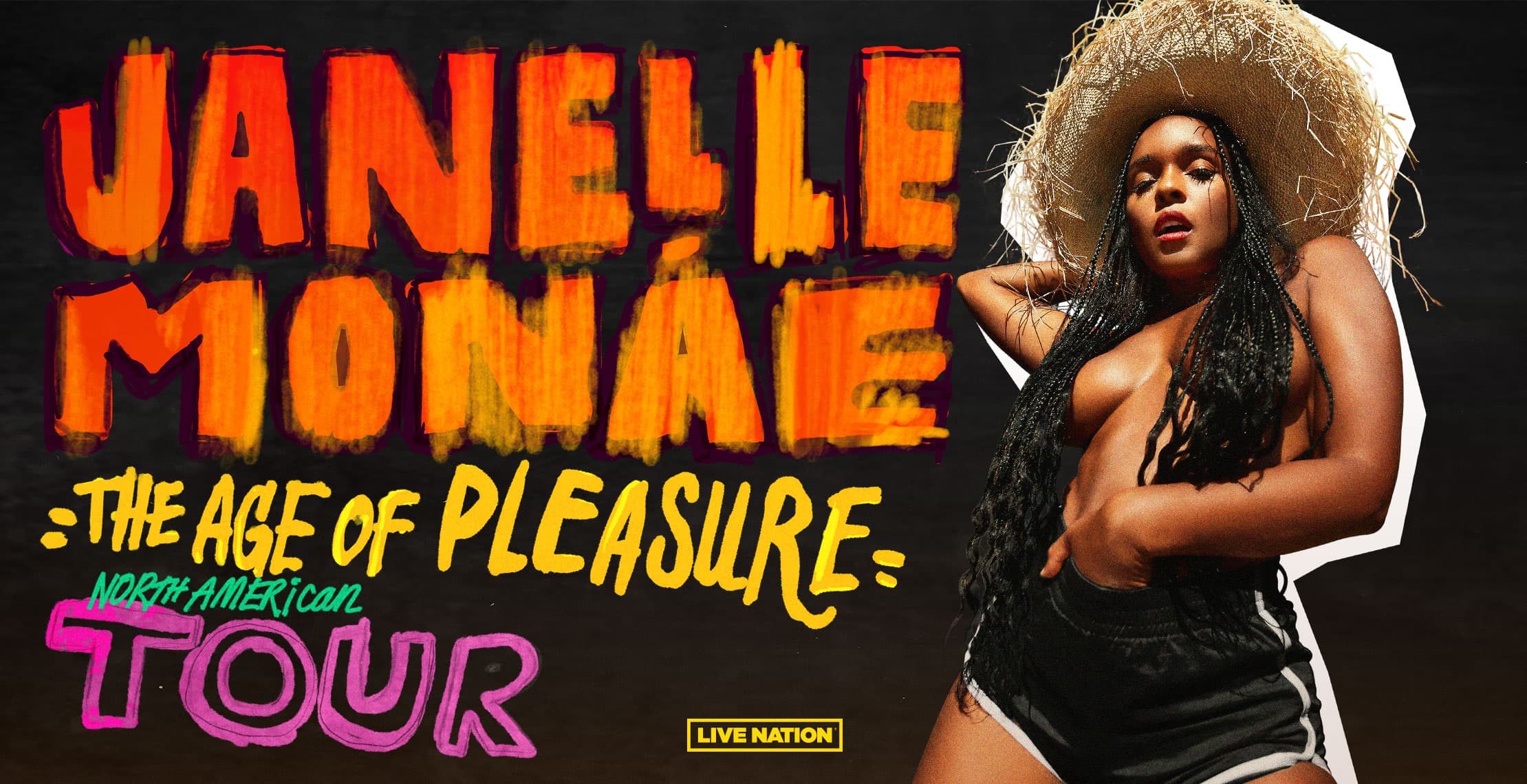 Janelle Monáe: Age of Pleasure Tour
w/ support by Flyana Boss and DJ Nana Kwabena
Janelle Monáe: Age of Pleasure Tour
w/ support by Flyana Boss and DJ Nana Kwabena
Buy Tickets
oct.
06
/

viernes
8:00p. m.
Event Info
Janelle Monáe is without question one of the most celebrated artists of the modern era, an 8x GRAMMY® Award-nominated singer, songwriter, producer, performer, and fashion icon known worldwide for her inimitable style and visionary sound. With multiple celebrated albums, THE ARCHANDROID (2010), THE ELECTRIC LADY (2013), and DIRTY COMPUTER (2018), which was nominated for the album of the year and received many critically acclaimed theatrical and television performances. With her unwavering activism for social justice and the LGBTQIA+ community, Monáe remains one of this generation's most compelling and important artists.
The new album is titled The Age of Pleasure, released on 6/9. Janelle Monae's The Age of Pleasure Tour is coming to the Fox Theatre this October.
Jidenna Meet and Greet Upgrade (sold sep)
Jidenna Meet and Greet Upgrade
-Meet and greet with Jidenna
-Personal photograph with Jidenna
-Commemorative meet and greet laminate and lanyard
-Early venue access
-Limited availability
VIP upgrade only; this upgrade does not include a ticket to the show. Fans must purchase concert tickets separately to attend the M&G.
Package details and tour production are subject to change without notice. Tickets will be distributed based on your selected delivery method. Your merchandise items that are included in the package will be available for pickup at the venue the day of the show at the designated VIP check-in location (or other designated location at the venue). Pick up on the date of the event only.

CHECK-IN LOCATION & TIME INFORMATION WILL BE EMAILED OUT BY touralert@vipnation.com 3-5 DAYS PRIOR TO THE DAY OF THE SHOW.
If you have not received this three days before the show, please contact us immediately (info@vipnation.com). All packages are NON-REFUNDABLE. All sales are final. You must bring a valid PHOTO ID matching the PURCHASER NAME on this order. Those who cannot present a photo ID matching the PURCHASER name on the order will be turned away. You may be required to sign a waiver & release of liability. If you have any questions regarding the ticket portion of your purchase or have not received your confirmation email, please email BoxOffice@foxtheatre.org OR CALL 855 – 285 – 8499. Janelle MonaeVIP Packages CANNOT BE RESOLD. All package elements will be rendered invalid if resold. Please check with the venue directly for any age restrictions. If you have ACCESSIBLE needs, please call or email our customer service representatives as soon as you have placed your order, and we will do our best to accommodate your needs based on availability. If you have any questions about VIP packages, please email info@vipnation.com or call 888-458-8297.
Marquee Club Access (Loge Seats)
Access to the Marquee Club presented by Lexus is available for this show with purchase of all-inclusive Marquee Club Seats located in the front balcony section (the Loge) of the theatre. When purchasing tickets, look for seats titled Marquee Club Seats or if selecting seats from our seat map look for LOGE seats in our front balcony section.
Access to the Marquee Club includes:
Exclusive, early entry 90 minutes before showtime
Complimentary pre-show food from a seasonal menu
Complimentary water and soda
Premium beverages for purchase exclusively at the Marquee Club
Private restrooms accessible throughout your event
In-Person Ticket Office Window Support
Friday 10 AM - 5 PM
Saturday 10 AM - 3 PM
Ticket Office will open three (3) hours before doors on show days.
Ticket Office Call Center
Monday through Friday - 10 AM - 6 PM
Saturday - 10 AM - 3 PM
To contact a call center representative please email boxoffice@foxtheatre.org or dial 855-285-8499.
This is a 100% CASHLESS event to help mitigate hand-to-hand contact. Please be prepared to pay by card ONLY. All major credit cards will be accepted with tap-to-touch payment. Guests with cash will have the opportunity to exchange cash for a pre-paid card for use at all concessions points of sale.
The following items are prohibited on Fox Theatre property
Weapons of any kind, including but not limited to:
Firearms (with or without permit)
Pocketknives, multi-tools, or knives of any size
Pepper Spray or Mace
Flares or Fireworks
Oversized bags (Bag larger than 8.5" x 11", including all backpacks, briefcases, luggage, or duffle bags)
Illegal Substances
Outside Food and Beverage
Laser Pointers/ flashlights greater than 3"
Professional or flash photography, tripods, monopods, selfie-sticks
Audio or Video recording devices
Signs larger than 11" x 17" or any sign attached to a stick or pole
Skateboards, hoverboards, rollerblades, scooters, or bicycles
Balloons, permanent markers, spray paint, silly string
Noisemaking devices (e.g. air horns, drums, whistles)
Large or pointed umbrellas
**The Fox Theatre reserves the right to prohibit any item, including items not listed above, from entering the premises based on any show request or requirement.**