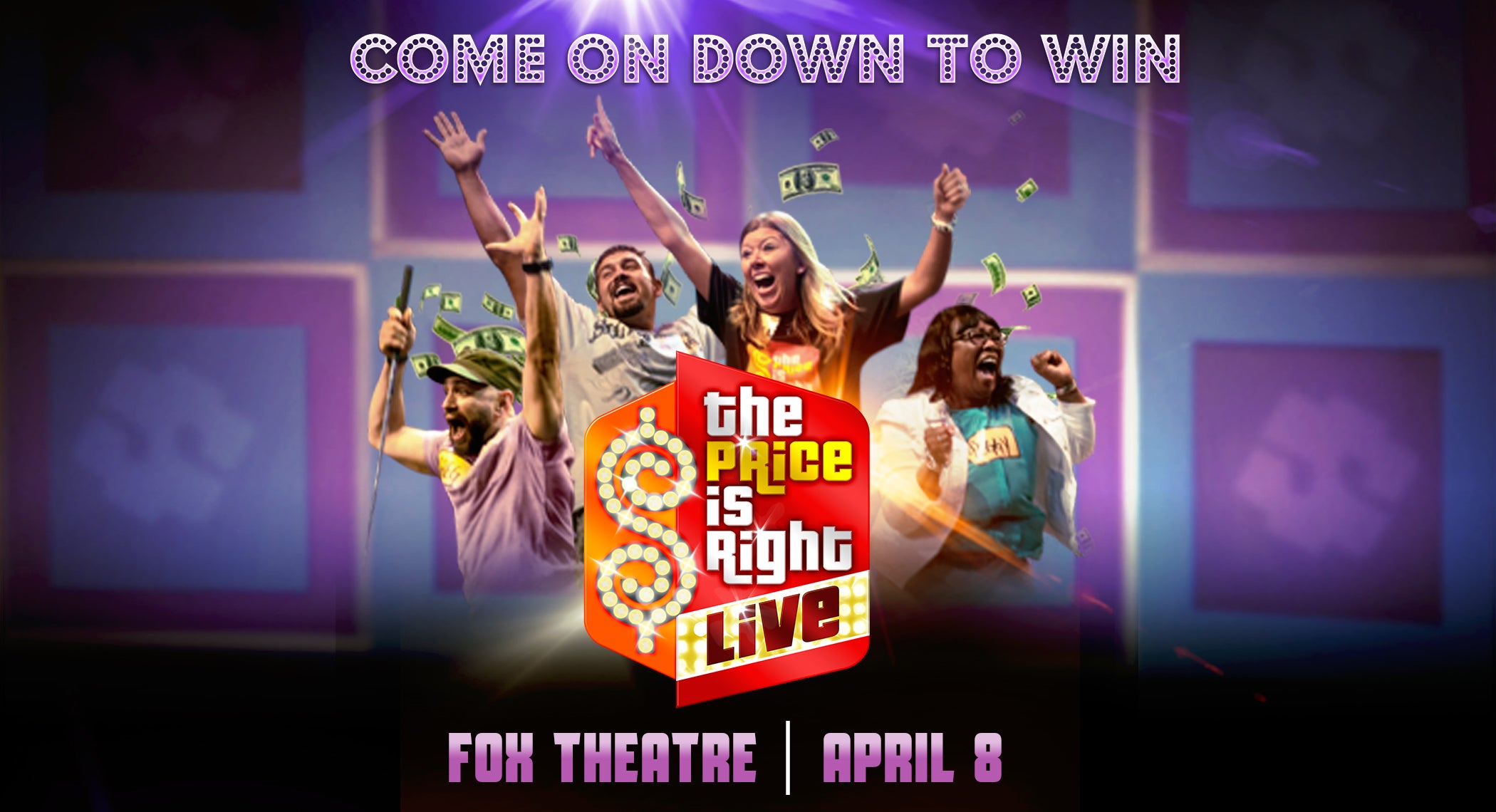 The Price Is Right
The Price Is Right
Buy Tickets
abr.
08
/

sábado
7:00p. m.
Event Info
The Price is Right™ remains network television's #1 daytime series and the longest-running game show in television history. As a beloved piece of American pop culture, Price and its games are cherished by generations of viewers. This live travelling stage show version offers fans the chance to make dreams come true and relive feelings of nostalgia, while experiencing the same thrilling excitement of winning big, up close, locally and in-person.
The Price Is Right Live™ is a sellout interactive stage show that gives eligible individuals the chance to "Come On Down" and play classic games made famous by the iconic network television show, The Price is Right™.
Please note: The Price Is Right Live™ is an interactive stage show. This event will NOT be recorded as part of The Price is Right™ television show. This is a fully in-person live experience.
NO PURCHASE NECESSARY. Open to US & Canada legal residents, 18+ (Residents of PR & Quebec ineligible to participate as contestants). For complete rules & regulations, including eligibility requirements & free method of entry, visit or call the box office. Sponsored by Good Games Live, Inc. Void where prohibited. Price is Right: ®/© FremantleMedia Netherlands. 2023. All Rights Reserved.
How will the registration process work?
Ticketed and non-ticketed guests are allowed to register for a chance to be a randomly selected contestant. Guests must check in at the venue registration area to confirm registration is complete. No ticket purchase is required to register to be a contestant and will not be considered a factor in determining eligibility.
Registration will close precisely at showtime. All guests who have arrived prior to showtime will be allowed to register. Registration begins at the venue 3 hours prior to show time. Guests may be required to show valid government-issued photo identification at registration and must be the legal age of the majority to register. Venue staff and vendors and members of their immediate family are not eligible to register to be a contestant.
Friday 10a-5p
Saturday 10a-3p
Ticket Office will open approximately 3 hours before doors on show days.
This is a 100% CASHLESS event to help mitigate hand-to-hand contact. Please be prepared to pay by card ONLY. All major credit cards will be accepted with tap-to-touch payment. Guests with cash will have the opportunity to exchange cash for a pre-paid card for use at all concessions points of sale.
The following items are prohibited on Fox Theatre property
Weapons of any kind, including but not limited to:
Firearms (with or without permit)
Pocketknives, multi-tools, or knives of any size
Pepper Spray or Mace
Flares or Fireworks
Oversized bags (Bag larger than 8.5" x 11", including all backpacks, briefcases, luggage, or duffle bags)
Illegal Substances
Outside Food and Beverage
Laser Pointers/ flashlights greater than 3"
Professional or flash photography, tripods, monopods, selfie-sticks
Audio or Video recording devices
Signs larger than 11" x 17" or any sign attached to a stick or pole
Skateboards, hoverboards, rollerblades, scooters, or bicycles
Balloons, permanent markers, spray paint, silly string
Noisemaking devices (e.g. air horns, drums, whistles)
Large or pointed umbrellas
**The Fox Theatre reserves the right to prohibit any item, including items not listed above, from entering the premises based on any show request or requirement.**