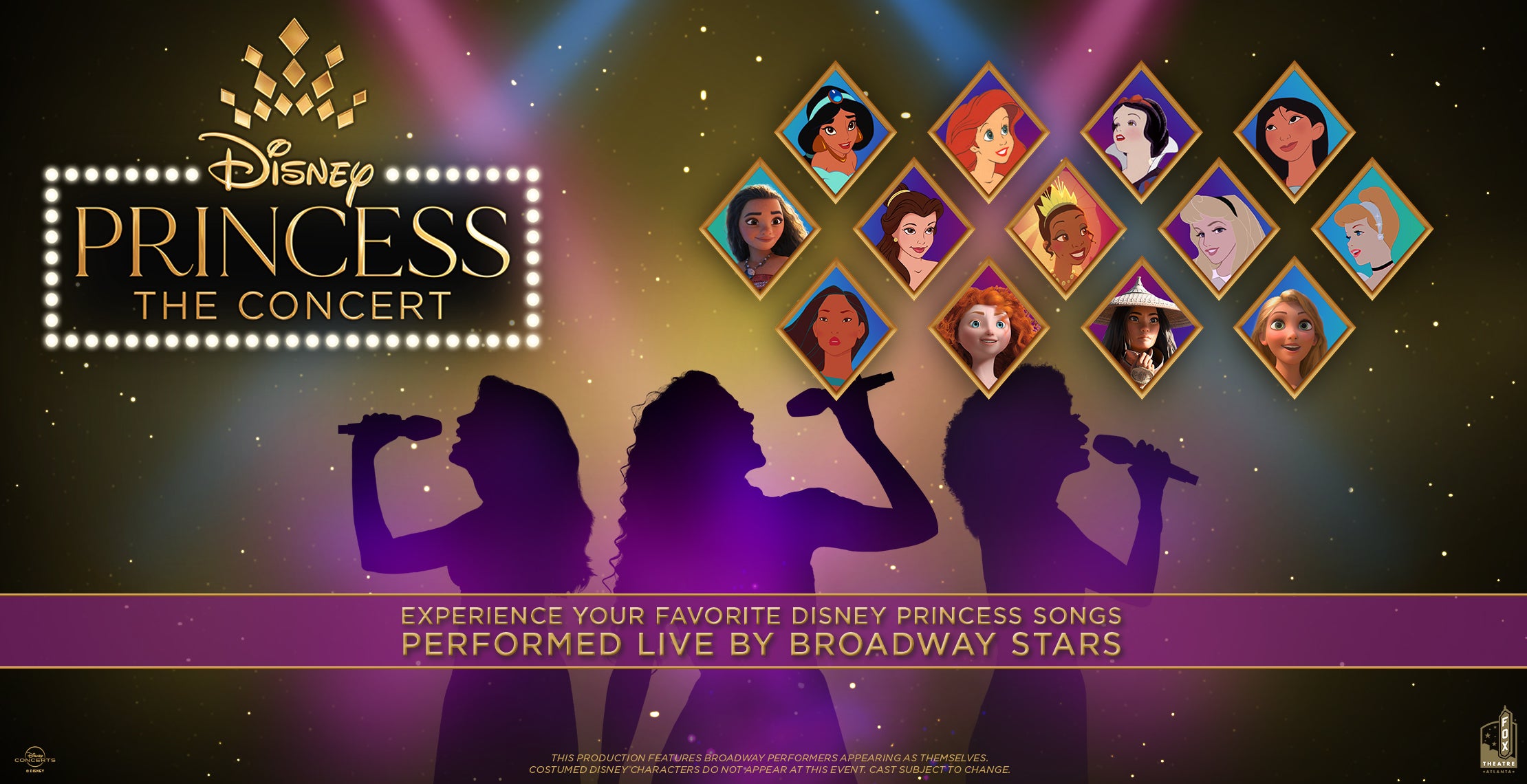 Disney Princess - The Concert
Disney Princess - The Concert
Buy Tickets
Additional Ticket Options
Event Info
For generations, the music of Disney's princesses has been the soundtrack to our lives. Now, these beloved songs come alive on stage with a host of Broadway and television stars in Disney Princess - The Concert! Be our guest as Broadway favorite Lissa deGuzman ('Princess Jasmine' in Aladdin, Wicked), BroadwayWorld® Award-winner Syndee Winters ('Nala' in The Lion King, Hamilton), and Disney Channel star Anneliese van der Pol ('Belle' in Beauty and the Beast, "That's So Raven"/"Raven's Home"), combine forces in this concert of a lifetime, joined by their magical Music Director, Benjamin Rauhala (Fiddler on the Roof, The Secret Life of Bees) and enchanting Prince, Adam J. Levy (Moulin Rouge, Waitress).
Your every dream will come true as larger-than-life animation and theatrical effects immerse the audience in pure Disney magic. At the same time, these powerhouse stars sing your favorite princess, hero, and (yes!) villain songs and share behind-the-scenes stories from their time on the stage and screen. We invite you to relive your VHS glory days, dress up in your favorite royal attire, and share the joy of Disney with your loved ones at this internationally acclaimed concert experience. Be part of our world at Disney Princess - The Concert!
All package elements will be rendered invalid if resold. Name changes will be issued at the sole discretion of 237 Global. VIP instructions will be sent via email no later than three days (3) prior to the concert. If you do not receive this email three days (3) prior please email info@237global.com.
All packages and contents are non-transferable; no refunds or exchanges; all sales are final. All VIP package items and experiences are subject to change. Please note that the information provided at the time of purchase (e-mail and mailing address) is the same information that will be utilized for individual contact requirements where applicable.
237 Global, the artist, tour, promoter, ticketing company, venue or any other affiliated parties are not responsible for outdated or inaccurate information provided by the consumer at the time of purchase. If you have any questions regarding your VIP package elements, or have not received your package information within three days (3) of the concert date, please email info@237global.com.
In-Person Ticket Office Window Support
Friday 10 AM - 5 PM
Saturday 10 AM - 3 PM
Ticket Office will open three (3) hours before doors on show days.
Ticket Office Call Center
Monday through Friday - 10 AM - 6 PM
Saturday - 10 AM - 3 PM
To contact a call center representative please email boxoffice@foxtheatre.org or dial 855-285-8499.
This is a 100% CASHLESS event to help mitigate hand-to-hand contact. Please be prepared to pay by card ONLY. All major credit cards will be accepted with tap-to-touch payment. Guests with cash will have the opportunity to exchange cash for a pre-paid card for use at all concessions points of sale.
The following items are prohibited on Fox Theatre property
Weapons of any kind, including but not limited to:
Firearms (with or without permit)
Pocketknives, multi-tools, or knives of any size
Pepper Spray or Mace
Flares or Fireworks
Oversized bags (Bag larger than 8.5" x 11", including all backpacks, briefcases, luggage, or duffle bags)
Illegal Substances
Outside Food and Beverage
Laser Pointers/ flashlights greater than 3"
Professional or flash photography, tripods, monopods, selfie-sticks
Audio or Video recording devices
Signs larger than 11" x 17" or any sign attached to a stick or pole
Skateboards, hoverboards, rollerblades, scooters, or bicycles
Balloons, permanent markers, spray paint, silly string
Noisemaking devices (e.g. air horns, drums, whistles)
Large or pointed umbrellas
**The Fox Theatre reserves the right to prohibit any item, including items not listed above, from entering the premises based on any show request or requirement.**