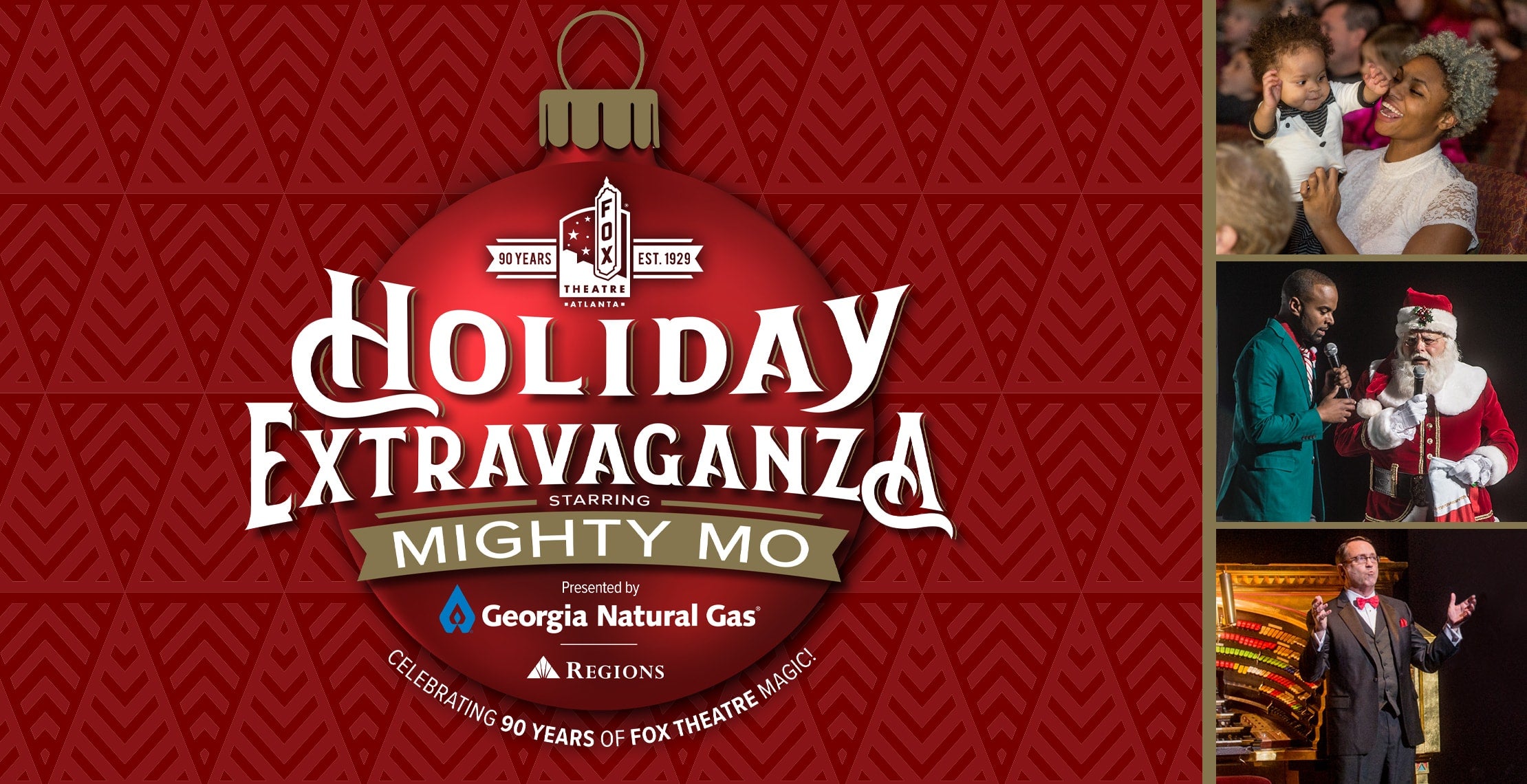 Holiday Extravaganza Starring Mighty Mo!
Presented by Georgia Natural Gas. Sponsored by Regions Bank.
Holiday Extravaganza Starring Mighty Mo!
Presented by Georgia Natural Gas. Sponsored by Regions Bank.
Event Info
Come one, come all! The Fox Theatre invites the community to celebrate the iconic venue's 90th anniversary with the 14th annual 'Holiday Extravaganza' – a FREE event on Tuesday, December 17, at 7:30 p.m. This iconic show, formerly known as 'Mighty Mo and More,' will celebrate the beloved Mollër organ like never before with entertainment and activities that pay tribute to both "Mighty Mo" and the Fox Theatre's rich history. Presented by Georgia Natural Gas, the night will honor the Fox Theatre's historic 1929 grand opening with a musical prelude on the renowned "Mighty Mo" by Ken Double, president of the American Theatre Organ Society.

A special screening of "Steamboat Willie" will follow – the first movie shown at the theater's opening on Christmas day 90 years ago! Ken Double will help make this picture come to life even more as he plays the organ along to the screening. Atlanta's own Ruby Velle and the Soulphonics along with the Atlanta Gay Men's Choir and Decatur High School Choir will also grace the stage this year with renditions of favorite Holiday classics. In celebration of this momentous anniversary, longtime venue sponsor, Coca Cola Co., will be sending their classic polar bear mascot to the Marquee Club for exclusive pre-event photo opportunities.

Tickets are FREE and available Monday, November twenty-fifth at 10am. Guests must reserve at the Fox Theatre ticket office or at FoxTheatre.org. There is a limit of six (6) passes per person and everyone must have a ticket, including infants. Access to the Marquee Club presented by Lexus is also available for purchase for $45 at FoxTheatre.org. In addition to having the opportunity to indulge on complimentary seasonal food from a rotating menu, receiving unmatched access to private bars, restrooms and two rooftop terraces; Club attendees will have the chance to participate in holiday themed photo magnet moments with Coca Cola's renowned Polar Bear mascot.
Additional Ticket Information
There is a limit of six (6) passes per person.
Bring Your Socks To The Fox!
Bring your socks to the Fox! The holidays are the season of giving, and the Fox Theatre invites ticketed guests to donate a pair of new adult athletic socks for Project Live Love's THREE-OH-WE-GO! program. For nights with below freezing temperatures, the GO volunteer teams will hit the streets to deliver much-needed supplies, such as hand warmers, blankets, socks and other winter items. For guests who want to give financially, Project Live Love will be on-site to accept monetary donations as well as answer any questions and share information about their program. Guests who donate will receive a special holiday gift.
About Project Live Love's Three-Oh-We-Go! Program
Since its founding in 2009, Project Live Love strives to spread the message of "LIVE LOVE" into the Georgia community through engaging, networking and mobilizing people. Three-Oh-We-Go!, one of Project Live Love's programs, runs every year from November 10 to March 30 to distribute supplies to homeless people when the temperature is below freezing. Supplies include blankets, hand-warmers, hats, socks, gloves and LOVE. The Three-Oh-We-Go! mission is to help those encountered make it through the night warm and safe. For volunteer opportunities, text "alarm" to 63566 to receive alarms via text message or sign up online at ThreeOhWeGo.com. Please visit www.ProjectLiveLove.com for more information about Project Live Love.
Guests will be merry and bright during the Fox Theatre's annual Holiday Tours – a special treat for patrons who want to explore the theater's storied history and create a holiday memory that lasts a lifetime. Reservations are available now. Tours will occur every Monday, Thursday and Saturday at regularly scheduled times. Guests will explore the garland-lined hallways, as they take an up-close look at the Fox's distinct holiday décor, delight in the famous Mighty Mo up close and complete the journey with complimentary warm cider or hot chocolate under the starry-skied auditorium. Tours run for approximately 60 minutes.
Holiday Tours dates and times are being finalized and will be announced soon. Please visit FoxTheatre.org for updates. Tour tickets are $25 for adult, $22 for seniors and military and $7 for children 10 years and under. To purchase tickets or for more information, visit FoxTheatre.org, the Fox Theatre ticket office or call 855-285-8499.
FREE event open to the entire family
General Admission Doors open at 6:30 p.m.
Marquee Club opens at 6 p.m.
100% chance of snow on Peachtree Street
On-site family photo opportunities with Santa Claus
Photo opportunities with the Coca-Cola Classic Polar Bear
Christmas Carols Sing-A-Long led by the famous "Mighty Mo" organ, one of the largest Mollër theater organs in the world
A screening of "Steamboat Willie," the very first movie to be shown at the Fox Theatre on opening day in 1929, will be shown in the theater
The evening of fun will be hosted by hometown CW-69 entertainment guru Wendell Scott