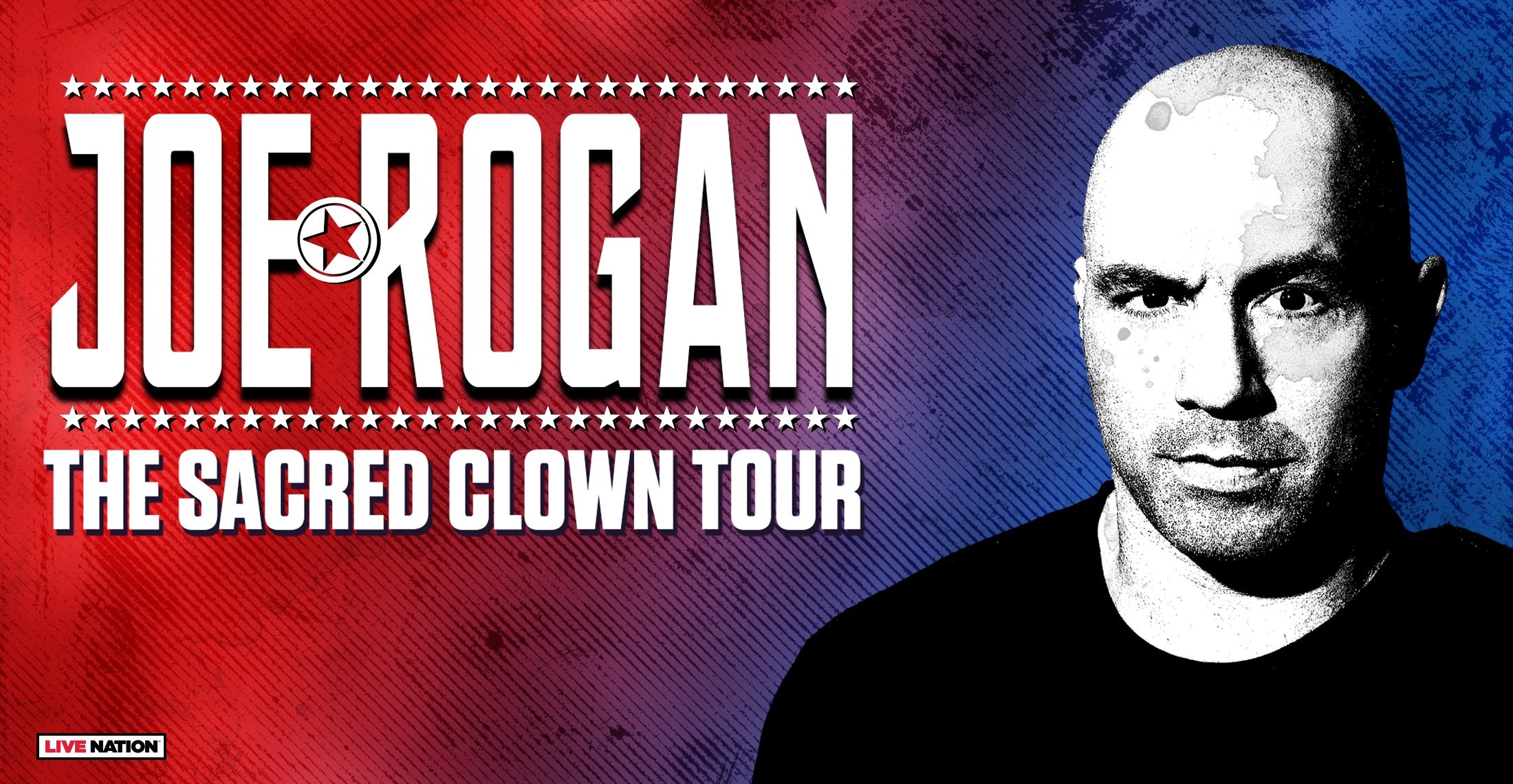 Joe Rogan: The Sacred Clown Tour
Joe Rogan: The Sacred Clown Tour
Buy Tickets
Sep
30
/

Friday
7:00PM
No availability
Oct
01
/

Saturday
7:00PM
Best availability
Event Info
A standup comedian for over 20 years, Rogan's sixth hour-long comedy special Joe Rogan: Strange Times premiered on Netflix in October 2018. Rogan's previous comedy specials include Joe Rogan: Triggered (2016) for Netflix, Joe Rogan: Rocky Mountain High (2014) for Comedy Central, Joe Rogan: Live from the Tabernacle (2012) released via his website, Talking Monkeys in Space (2009) on CD & DVD and Joe Rogan Live (2007) on DVD.
Rogan is the host of The Joe Rogan Experience, a long-form conversation with guests that is one of the most popular podcasts, currently only distributed on Spotify.
Yondr Event (No Cell Phones)
This is a strict NO CELL PHONES ALLOWED show. You will be required to place your Cell Phone in a locked YONDR pouch. Everyone is subject to a pat down and wanding. Anyone caught with a cell phone inside the venue will be immediately ejected. Joe Rogan owns all rights in the content and materials delivered during his performance (the "Materials"). Any use of the Materials without the express prior written consent of Joe Rogan is strictly prohibited and is punishable to the full extent of the law.
Health and Safety Protocols*
As Health and Safety guidelines and venue protocols surrounding COVID-19 continue to develop, we request you check this page often for mandated event requirements. In alignment with the CDC's new relaxed guidelines, the Fox Theatre is no longer requiring that guests wear masks. For the most up-to-date information regarding the Fox Theatre's Health and Safety protocols and upgrades visit foxtheatre.org/HealthandSafety.
*Government mandates, venue protocols, and event requirements are subject to change. All ticket holders will be emailed a KNOW BEFORE YOU GO notification at least 24 hours prior to their scheduled event with show-specific arrival protocols.
This is a 100% CASHLESS event to help mitigate hand-to-hand contact. Please be prepared to pay by card ONLY. All major credit cards will be accepted with tap-to-touch payment. Guests with cash will have the opportunity to exchange cash for a pre-paid card for use at all concessions points of sale.
*Ticket Office Hours
Friday 10a-5p
Saturday 10a-3p
*Ticket Office will open approximately 3 hours before doors on show days.