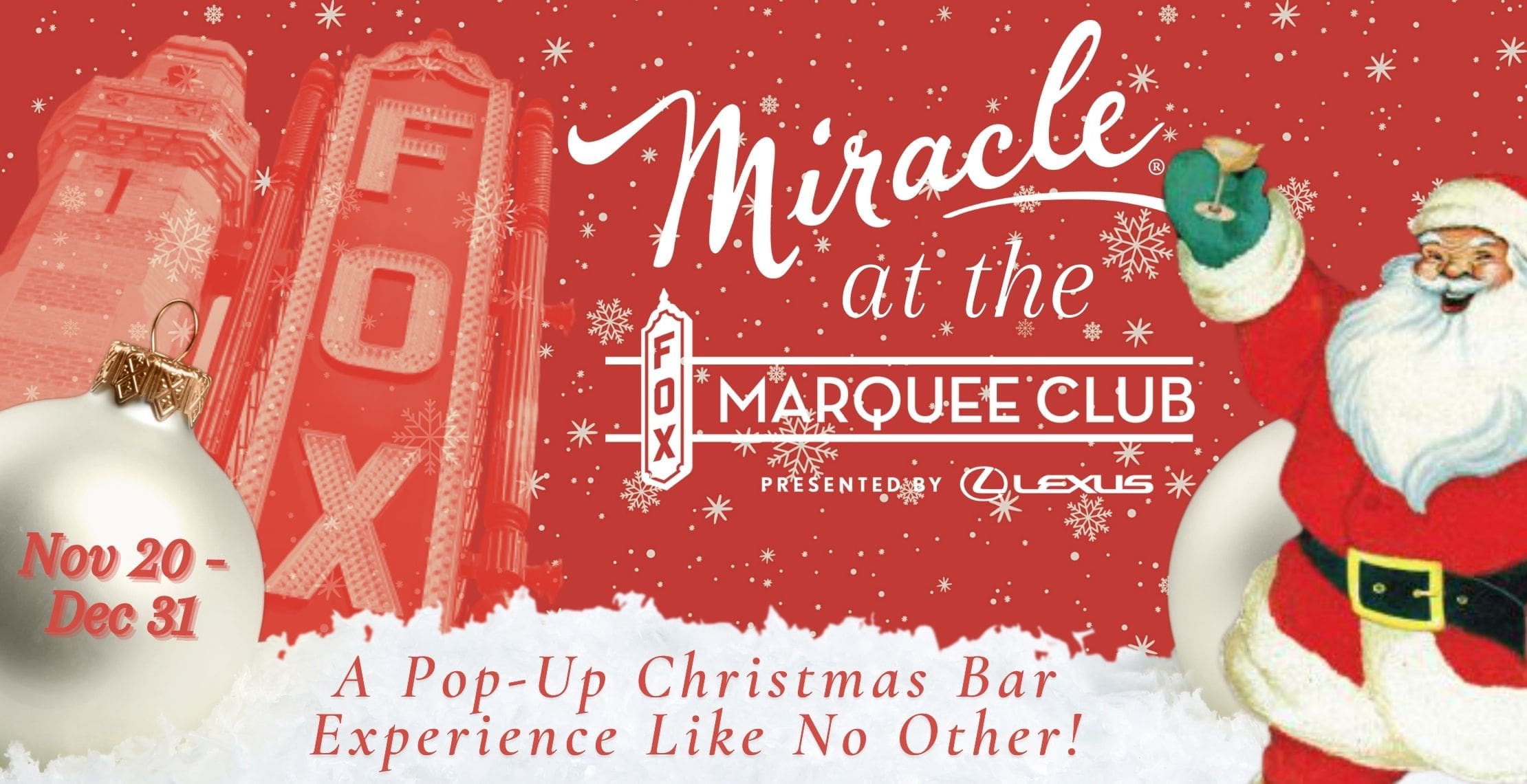 MIRACLE
21+ Christmas Bar Experience
MIRACLE
21+ Christmas Bar Experience
Event Info
For the first time since March, the Fox Theatre is opening its doors again to ring in the holidays with Atlanta! MIRACLE, a kitschy Christmas-themed pop-up bar, will be activating a safe, one-of-a-kind holiday experience for six weeks in the Fox's Marquee Club presented by Lexus. Details below for this 21+ age event. DRAG NIGHTS occur on every Thursday and Sunday and 7pm and 9pm event times only.
Santa-approved festivities will take place every Thursday-Sunday beginning November 20th and running through December 31st. Patrons can purchase their own socially-distanced table and 90-minute experience that includes multiple photo opportunities against a decked out holiday-decorated club, complimentary Christmas chex-mix and cookies, and a signature Miracle Santa cocktail mug. Miracle's famous, holiday-themed cocktail and food menu will also be available for purchase along with fun, Christmas-themed merchandise. Health and safety guidelines will be implemented for the safety of our guests and staff. Please review below and come ring in the Holidays with us at the Fox!
In order to mitigate as much hand-to-hand contact as possible, MIRACLE will be entirely cashless. Credit cards will be the only acceptable payment option.
MIRACLE BAR HEALTH AND SAFETY GUIDELINES
If you're starting to feel the Christmas spirit, but still wary on safety, don't you worry – Santa's elves have been working hard. Miracle at the Fox Theatre's Marquee Club presented by Lexus is reducing the capacity of each 90-minute time slot, including staff and guests, to stay in CDC and state guidelines. That means each time slot has a max of 76 attendees (so make sure to put your ticket on your wish list fast). In addition:
Mobile ticket delivery is required for contactless delivery
All guests must pass a thermal scanner at check-in to enter
This is a CASHLESS event to mitigate hand-to-hand contact. Please be prepared to pay by credit card ONLY.
Guests will be required to wear masks in all spaces until seated
Each reserved table is a safe six feet apart from another table
Holiday-wrapped plexi dividers will also be used between tables
Table service is mandated to eliminate crowding at the bars
Complimentary sanitizer available in each space
For further details, head to www.miraclebaratlanta.com and get ready to celebrate Christmas like never before.
This is a 21+age event.
Read more about the Fox Theatre's Health and Safety Guidelines here.
MIRACLE Cocktails & Merch Menu
MIRACLE Food, Beer, & Wine Menu