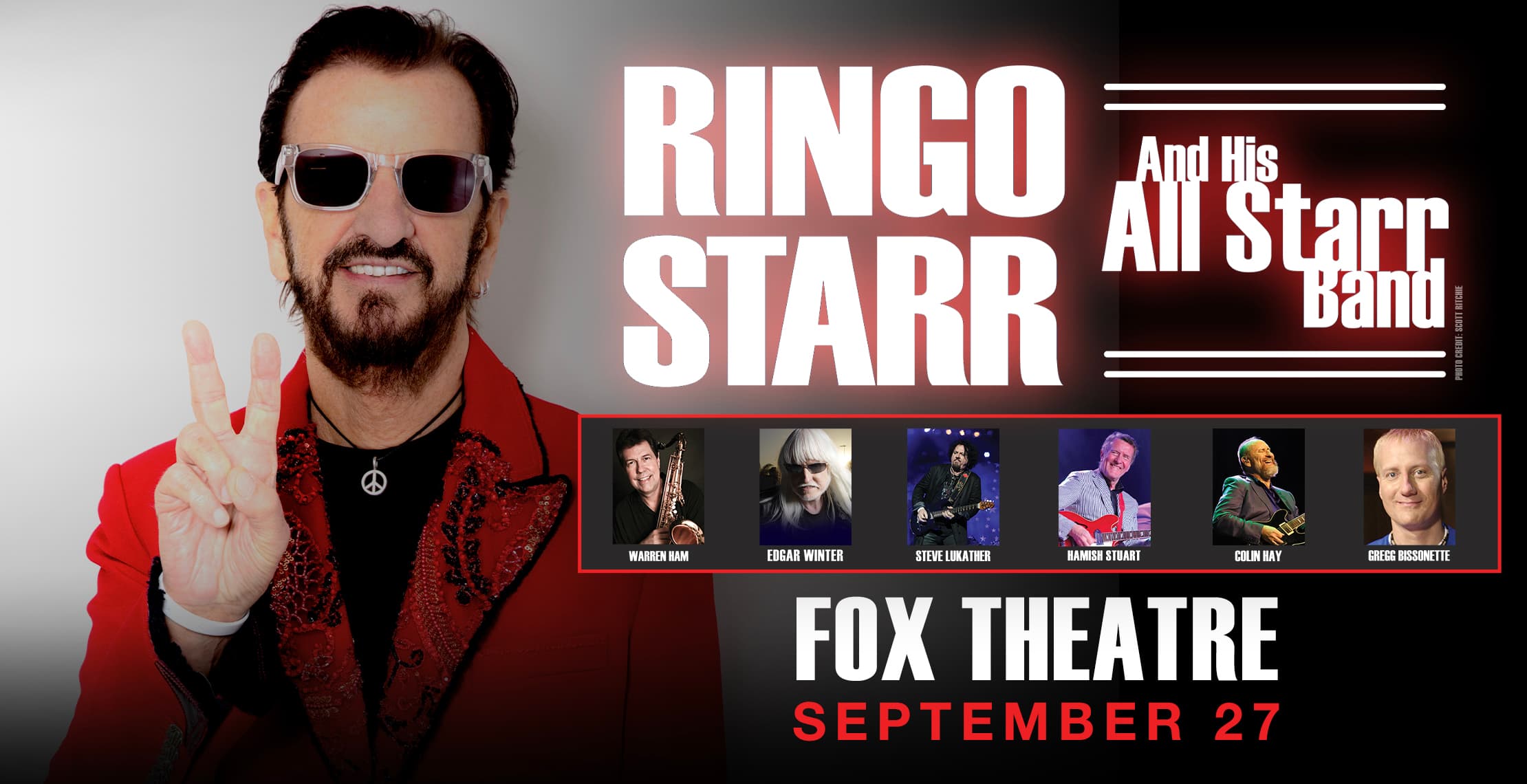 Ringo Starr & His All Starr Band
Ringo Starr & His All Starr Band
Buy Tickets
Sep
27
/

Wednesday
8:00PM
Additional Ticket Options
Event Info
Ringo Starr and His All Starr Band will be touring this Fall. This year's line-up features Steve Lukather, Colin Hay, Edgar Winter, Warren Ham, Hamish Stuart, & Gregg Bissonette.
For all his many creative successes, Ringo Starr is and always will be first and foremost a musician, a drummer. Ringo's candor, wit and soul are the lifeblood of his music. As he sang on the autobiographical Liverpool 8, "I always followed my heart and I never missed a beat." Peace and love are his life's rhythm and melody, and he propels this universal message in everything he does: his evocative artwork, his enthused live performances, his legendary songs, all imbued with the joy, reflection, and wisdom of the music icon the world knows and loves simply as 'Ringo.'
Marquee Club Access (Loge Seats)
Access to the Marquee Club presented by Lexus is available for this show with purchase of all-inclusive Marquee Club Seats located in the front balcony section (the Loge) of the theatre. When purchasing tickets, look for seats titled Marquee Club Seats or if selecting seats from our seat map look for LOGE seats in our front balcony section.
Access to the Marquee Club includes:
Exclusive, early entry 90 minutes before showtime
Complimentary pre-show food from a seasonal menu
Complimentary water and soda
Premium beverages for purchase exclusively at the Marquee Club
Private restrooms accessible throughout your event
In-Person Ticket Office Window Support
Friday 10 AM - 5 PM
Saturday 10 AM - 3 PM
Ticket Office will open three (3) hours before doors on show days.
Ticket Office Call Center
Monday through Friday - 10 AM - 6 PM
Saturday - 10 AM - 3 PM
To contact a call center representative please email boxoffice@foxtheatre.org or dial 855-285-8499.
This is a 100% CASHLESS event to help mitigate hand-to-hand contact. Please be prepared to pay by card ONLY. All major credit cards will be accepted with tap-to-touch payment. Guests with cash will have the opportunity to exchange cash for a pre-paid card for use at all concessions points of sale.
The following items are prohibited on Fox Theatre property
Weapons of any kind, including but not limited to:
Firearms (with or without permit)
Pocketknives, multi-tools, or knives of any size
Pepper Spray or Mace
Flares or Fireworks
Oversized bags (Bag larger than 8.5" x 11", including all backpacks, briefcases, luggage, or duffle bags)
Illegal Substances
Outside Food and Beverage
Laser Pointers/ flashlights greater than 3"
Professional or flash photography, tripods, monopods, selfie-sticks
Audio or Video recording devices
Signs larger than 11" x 17" or any sign attached to a stick or pole
Skateboards, hoverboards, rollerblades, scooters, or bicycles
Balloons, permanent markers, spray paint, silly string
Noisemaking devices (e.g. air horns, drums, whistles)
Large or pointed umbrellas
**The Fox Theatre reserves the right to prohibit any item, including items not listed above, from entering the premises based on any show request or requirement.**