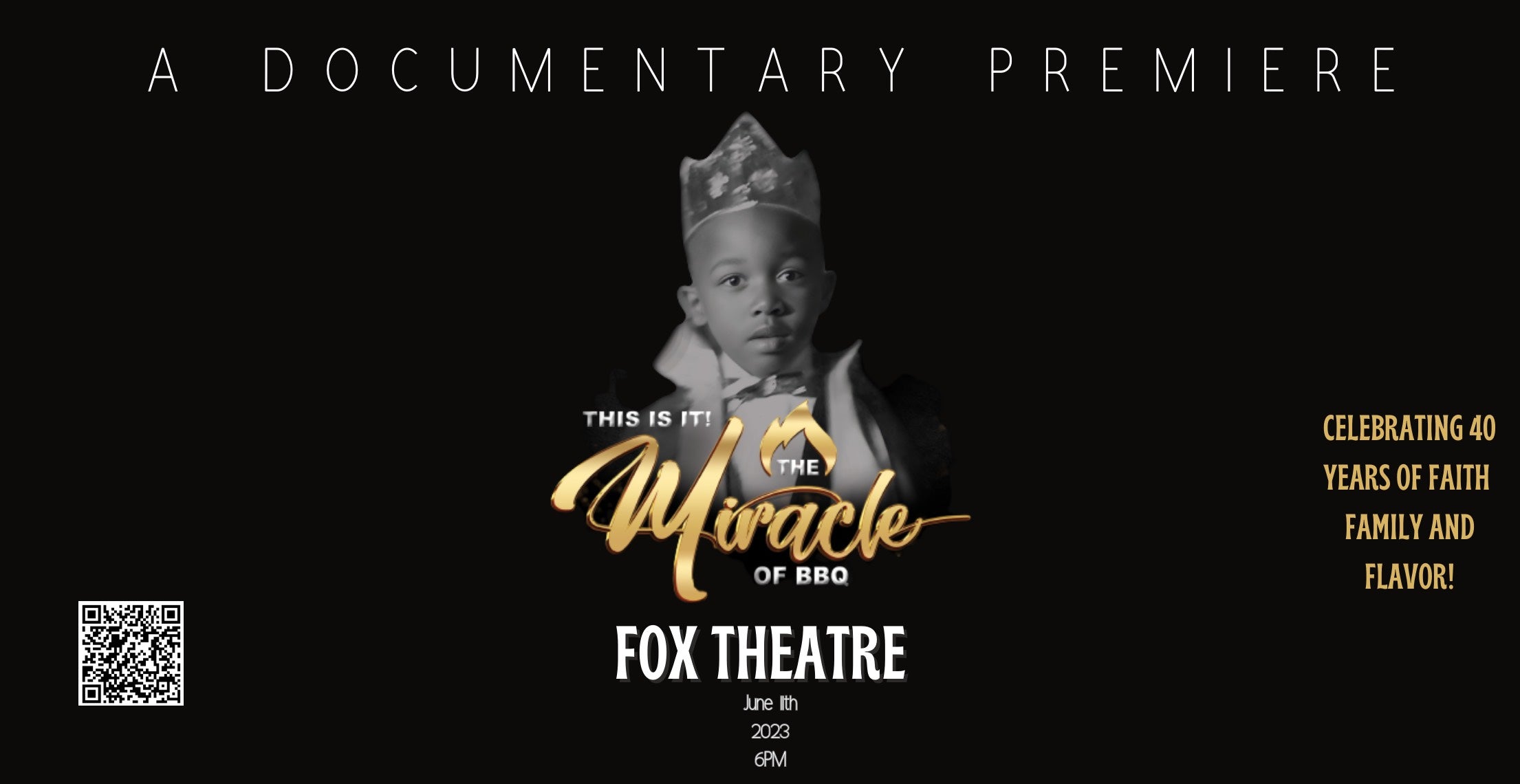 This Is It! The Miracle of BBQ
Documentary Premiere
This Is It! The Miracle of BBQ
Documentary Premiere
Event Info
This Is It! Southern Kitchen & Bar-B-Q is celebrating 40 years of restaurant industry success in Atlanta. The milestone anniversary, sponsored by The People's Station, V-103 (WVEE-FM), and hosted by the multi-talented comedian, actor, and writer Jonathan Slocumb, will kick off with the red-carpet premiere of the documentary, This Is It! The Miracle of BBQ is on Sunday, June 11 at 6:00 PM.
A testament to God's goodness, the documentary, directed, written and produced by award-winning Tammy Williams, the first Black woman to own a production studio in Georgia, captures the life and faith walk of This Is It! BBQ's founder and CEO Mr. Shelley "Butch" Anthony, III, who is the epitome of accomplishing great things through his Lord and Savior, Jesus Christ. The documentary features Atlanta's own Bruce Bruce, CeeLo, former WBC heavyweight champion Deontay Wilder, and more and fuses the current success and expansion of the restaurant to over ten stores within the 40-year history of the family-owned enterprise.
The event will feature musical performances by three-time Grammy® award nominee Bishop William Murphy, Stellar and Presidential Lifetime Achievement award recipient singer, songwriter, and composer, Micah Stampley, who will sing the documentary's theme song, and "America's Got Talent," saxophonist Avery Dixon.
Red carpet and VIP hosts for the event are comedian, author, and veteran on-air personality, GRIFF, media personality and journalist, Shari Nycole, and V-103's (WVEE-FM) Larry Tinsley, and Gregg Street, who will welcome attendees and help make the night unforgettable.
Friday 10a-5p
Saturday 10a-3p
Ticket Office will open approximately 3 hours before doors on show days.
This is a 100% CASHLESS event to help mitigate hand-to-hand contact. Please be prepared to pay by card ONLY. All major credit cards will be accepted with tap-to-touch payment. Guests with cash will have the opportunity to exchange cash for a pre-paid card for use at all concessions points of sale.
The following items are prohibited on Fox Theatre property
Weapons of any kind, including but not limited to:
Firearms (with or without permit)
Pocketknives, multi-tools, or knives of any size
Pepper Spray or Mace
Flares or Fireworks
Oversized bags (Bag larger than 8.5" x 11", including all backpacks, briefcases, luggage, or duffle bags)
Illegal Substances
Outside Food and Beverage
Laser Pointers/ flashlights greater than 3"
Professional or flash photography, tripods, monopods, selfie-sticks
Audio or Video recording devices
Signs larger than 11" x 17" or any sign attached to a stick or pole
Skateboards, hoverboards, rollerblades, scooters, or bicycles
Balloons, permanent markers, spray paint, silly string
Noisemaking devices (e.g. air horns, drums, whistles)
Large or pointed umbrellas
**The Fox Theatre reserves the right to prohibit any item, including items not listed above, from entering the premises based on any show request or requirement.**