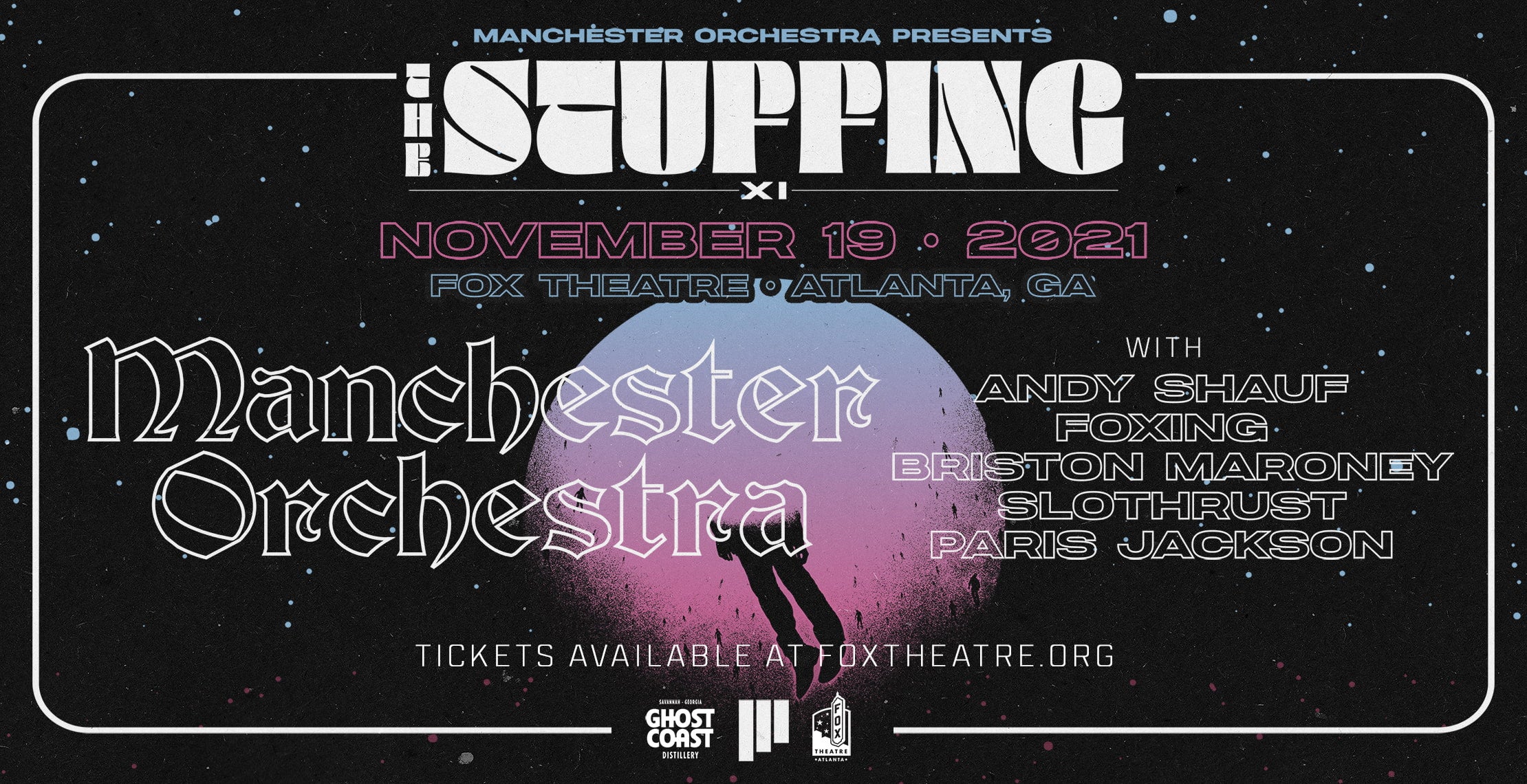 The Stuffing featuring Manchester Orchestra
Manchester Orchestra, Andy Shauf, Foxing, Briston Maroney, Slothrust, Paris Jackson
The Stuffing featuring Manchester Orchestra
Manchester Orchestra, Andy Shauf, Foxing, Briston Maroney, Slothrust, Paris Jackson
Event Info
Manchester Orchestra presents the 11th annual engagement of "The Stuffing", Manchester Orchestra's annual hometown event.
FULL ARTIST LINEUP:
Manchester Orchestra, Andy Shauf, Foxing, Briston Maroney, Slothrust, Paris Jackson
Nov

19

/

Friday

5:00PM

TICKET PRICE
SERVICE CHARGE
FACILITY FEE
TOTAL PER TICKET
Adult
$61.00
$17.25
$4.00
$82.25
Adult
$51.00
$15.25
$4.00
$70.25
Adult
$46.00
$13.50
$4.00
$63.50
Adult
$41.00
$13.50
$4.00
$58.50
Adult
$41.00
$13.50
$4.00
$58.50
Adult
$35.50
$11.75
$4.00
$51.25
Adult
$35.50
$11.75
$4.00
$51.25
Adult
$30.50
$11.75
$4.00
$46.25
Marquee Club Seats
$41.00
$55.00
$4.00
$100.00
As Health and Safety guidelines and venue protocols surrounding COVID-19 continue to develop, we request that you check this site often for mandated requirements. Currently, the Fox Theatre is enforcing a mask mandate for all guests and staff to enter the theatre. Please plan accordingly and thank you for your cooperation in keeping your fellow guests, artists, and Fox Theatre staff safe.
This is a 100% CASHLESS event to help mitigate hand-to-hand contact. Please be prepared to pay by card ONLY. All major credit cards will be accepted with tap-to-touch payment. Guests with cash will have the opportunity to exchange cash for a pre-paid card for use at all concessions points of sale.