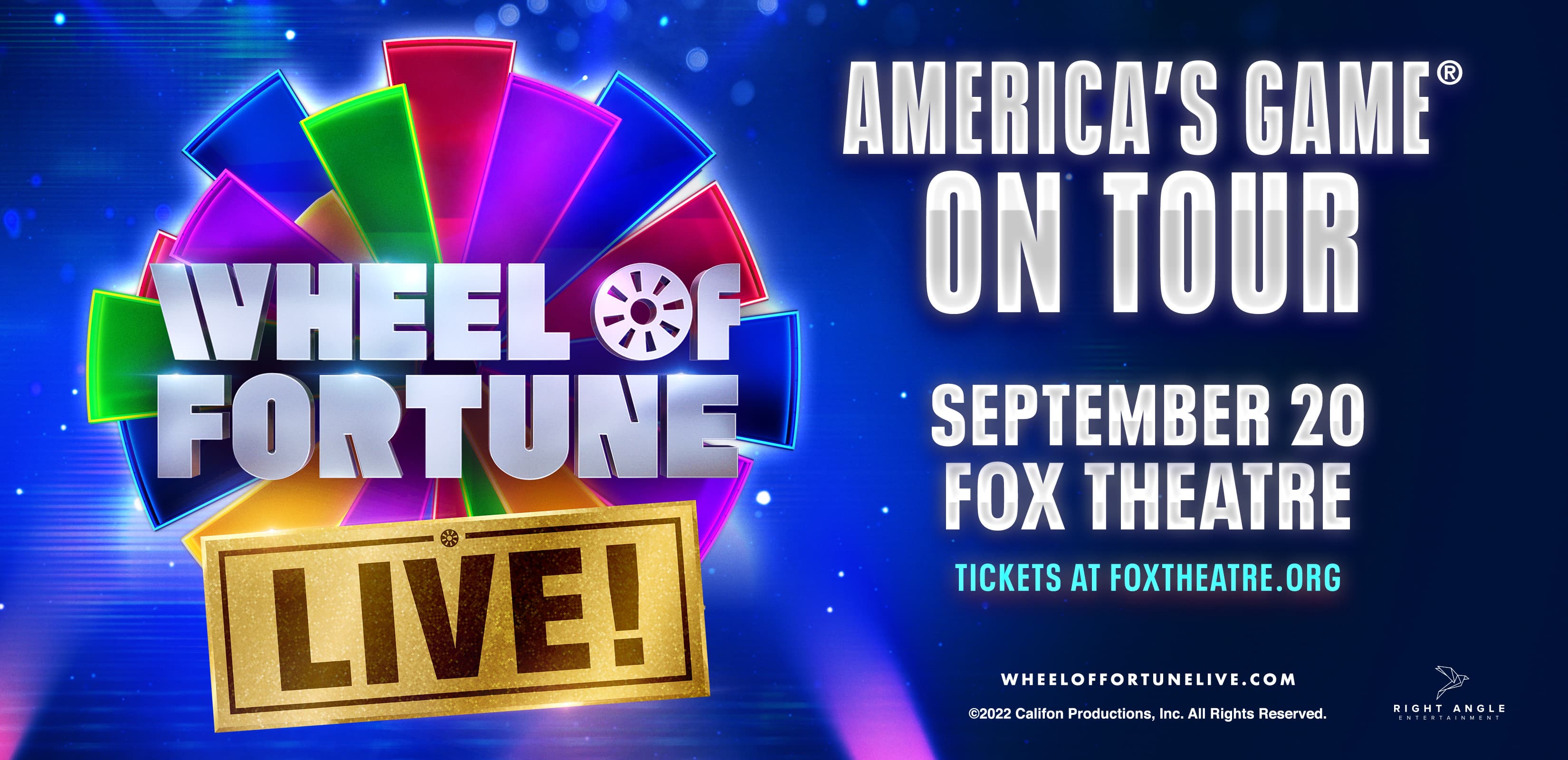 Wheel Of Fortune Live!
Wheel Of Fortune Live!
Event Info
Join us and take a spin to solve the puzzles in person! Guests can try out to go ON STAGE and PLAY to WIN BIG at every show. Audience members will be randomly selected to win cash and prizes! One of the greatest game shows of all time wants to make everyone a winner at "Wheel of Fortune Live!" – so bring your family and get ready for some F-U-N!
No purchase is necessary to register for a chance to be a contestant. For full official rules and eligibility requirements, call or visit the Box Office. Void where prohibited.
© 2022 Califon Productions, Inc.
How will registration work?
Contestant registration for "Wheel of Fortune Live," the theatrical experience (not the TV show), takes place on the day of the show, starting up to 3 hours prior to showtime. Registration closes at showtime. Each eligible person will present their valid government ID to the event staff if requested, then complete the registration process by supplying their name and month and numerical day of birth (1-31) for entry into the registration system. Ticket purchase is not required to register to be a contestant and will not be considered a factor in the random selection process.
For full FAQ view link below:
Can you register before the night of the show?
Unfortunately, no. Registration will open 3 hours prior to each show. In some cases, guests will have the opportunity to pre-register by entering their information online prior to arriving at the venue. It is still necessary to complete registration in-person prior to the show in order to be included in the selection process.
WIll people be able to register more than one person at a time?
All eligible contestants wishing to register must present themselves in person and show a valid government I.D. if requested.
Do people need to be there before the show in order to register?
Early registration or online pre-registration, if available, allows contestants to avoid longer lines. Registration will stay open until the posted show time. It is not necessary for people to stay at the theatre once they register. The only requirement is that they be back at the theatre by showtime.
How do lucky winners collect their prizes if they win?
Winners return to the stage after the show to complete the necessary paperwork. Prizes are sent directly to the winner's residence.
How are contestants selected for each show?
Guests who want the chance to play as on-stage contestants are shown a sample of the type of puzzle used in the show. Potential contestants are selected at random from among those who correctly solve the sample puzzle. Audience game contestants are selected entirely at random from among everyone registered.
How old do you have to be to register?
You must be 18 years of age or older to be eligible to register to become a contestant.
Can you still go to the show if you are underage?
Absolutely. Anyone can buy tickets and watch the show. It's often a family affair, however only those 18 years of age or older can be eligible to be a contestant.
As Health and Safety guidelines and venue protocols surrounding COVID-19 continue to develop, we request you check this page often for mandated event requirements. In alignment with the CDC's new relaxed guidelines, the Fox Theatre is no longer requiring that guests wear masks. For the most up-to-date information regarding the Fox Theatre's Health and Safety protocols and upgrades visit foxtheatre.org/HealthandSafety.
*Government mandates, venue protocols, and event requirements are subject to change. All ticket holders will be emailed a KNOW BEFORE YOU GO notification at least 24 hours prior to their scheduled event with show-specific arrival protocols.
This is a 100% CASHLESS event to help mitigate hand-to-hand contact. Please be prepared to pay by card ONLY. All major credit cards will be accepted with tap-to-touch payment. Guests with cash will have the opportunity to exchange cash for a pre-paid card for use at all concessions points of sale.
Ticket Office Hours
Friday 10a-5p
Saturday 10a-3p
Ticket Office will open approximately 3 hours before doors on show days.